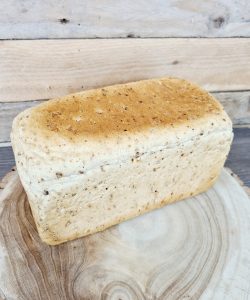 Granary (Norfolk crunch) is a strong malted brown granary bread flour that contains quality blends of malted flours and wheat.<
it bakes a succulent well rounded loaf with a nutty texture and a crunchy wholegrain bite.
We buy our flour for our Granary, wholemeal and sandwich tins from Heygates flour mill. Heygates is a family run business which has farmed in Northamptonshire since 1562 and moved into milling in the 19th century.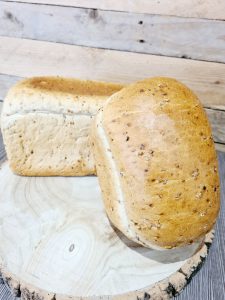 WATER (16.67%) (1g)
PINNACLE YEAST (16.67%) (1g)
SALT (16.67%) (1g)
IREKS VOLTEX BREAD IMPROVER (16.67%) (1g) Soya flour, acidity regulator E 170, emulsifiers: E 472e, E 481: wheat flour, flour treatment agent E300, enzymes
BAKO EMULSIFIED BREAD FAT (16.67%) (1g) distilled monoglyceride E471 Rapeseed oil, palm oil,
HEYGATES NORFOLK CRUNCH (16.67%) (1g) Wheat Flour (WHEAT flour, Calcium Carbonate (E170), Iron, Nicotinamide (Vit B3), Thiamine Hydrochloride (Vit B1), Kibbled wheat malt, Malted barley flour, gluten, Ascorbic acid (E300) Wheat Flour (WHEAT flour, Calcium Carbonate (E170), Iron, Nicotinamide (Vit B3), Thiamine Hydrochloride (Vit B1), Kibbled wheat malt, Malted barley flour, gluten, Ascorbic acid (E300)
MAY CONTAIN TRACES OF: NUTS & SESAME SEEDS