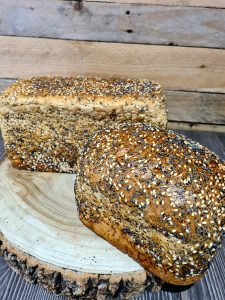 This bread is made using a blend of wheat flour & Multiseed blend. This is baked in tins.
Linseeds, pumpkin seed, sunflower seed, wheat Bran, sesame seeds, poppy seeds & oat flakes Multiseed has the added benefits of being low in saturated fats, a source of fibre, calcium, iron & vitamin B6.
This bread is great for slow releasing energy, keeps you fuller for longer! A great all rounder for the whole family.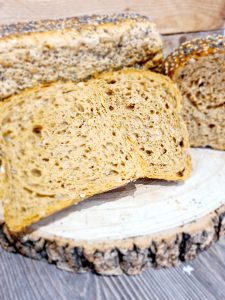 WATER (28.57%) (2g)
PINNACLE YEAST (28.57%) (2g)
GREEN LABEL WHITE FLOUR (14.29%) (1g) Wheat Flour (WHEAT flour, Calcium Carbonate (E170), Iron, Nicotinamide (Vit B3), Thiamine Hydrochloride (Vit B1) Wheat Flour (WHEAT flour, Calcium Carbonate (E170), Iron, Nicotinamide (Vit B3), Thiamine Hydrochloride (Vit B1)
MULTISEED BREAD CONCENTRATE (14.29%) (1g) Wheat Flour (Statutory Additives: Calcium Carbonate, Niacin, Iron, Thiamine), Sunflower Seeds, Brown Linseed, Wheat Gluten, Pumpkin Seeds, Rye Flour, Oats, Wheat Bran, Dried Wheat Sourdough, Sugar, Salt, Caramelised Sugar, Emulsifier (E472e Mono- and diacetyl tartaric acid esters of mono- and diglycerides of fatty acids), Flour Treatment Agent (E300 Ascorbic Acid) salt, water,
HULLED SESAME SEEDS (14.29%) (1g)
MAY CONTAIN TRACES OF: NUTS